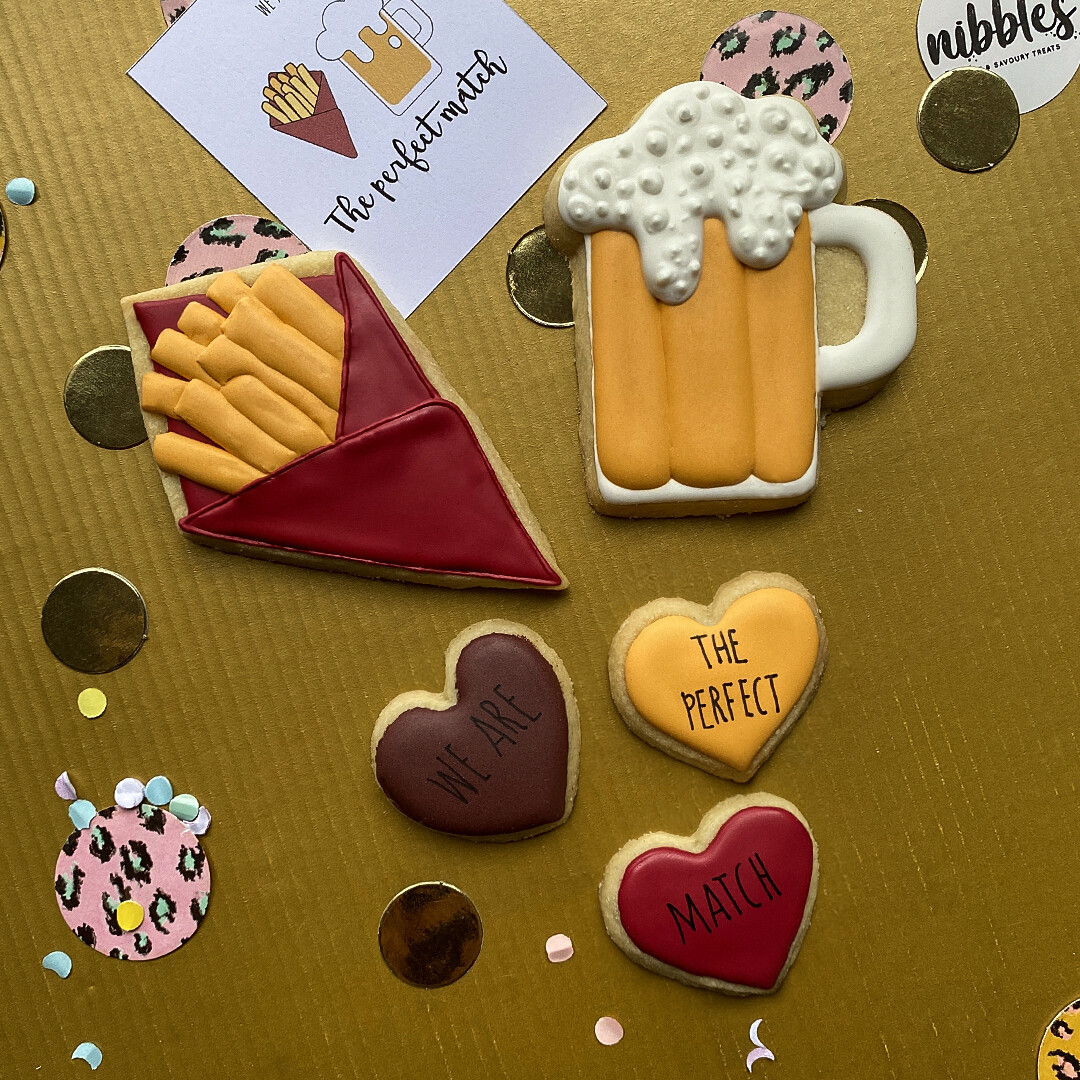 Valentine Perfect match
SKU Perfectmatch
Product Details
Valentine The perfect match Cookie
Gift Box
Available for Pre-orders only
What is included:

- 5 assorted sized handmade vanilla cookies;
- Presented in a giftbox with a ribbon;
- Securely packaged to keep them safe in the post;
- Free small Valentines day card where you can add your message.
Available until February 7th (last day to order).

Mail delivery: shipped by bpost February 9th. We'll provide a tracking number by email.

Hand delivery: Cookies will be delivered by February 14th (we will contact you to schedule).
Check the Hand Delivery area
Belgium mail delivery: 3/4 working days (price will be automatically calculated when you order);

Europe mail delivery: 7/10 working days (price will be automatically calculated when you order);
Our cookies

Delicious butter shortbread that melts in your mouth with crunchy soft icing. (This set also comes in gingerbread, speculoos and chocolate flavours).
We value the integrity and quality of our ingredients. With that in mind, we only use bio and locally sourced eggs, as well as other well-sourced produce.
Some of our ingredients are Sugar, flour, butter, eggs, flavoring, leavening and food colors, marzipan, almond so our products may
contain lactose, eggs, gluten, soy and nuts and sesame seeds.
They are handmade, so some colours and design variations may happen, but we think this is what makes them unique.
All of our biscuits will have at least 1 month shelf life from the moment they leave our kitchen for delivery.
We can assure you that we bake your cookies as close to the delivery date as possible, to make sure they taste like freshly baked.
Please keep them inside of the compostable plastic bags until you're ready to eat them. Don't store them in the fridge. Keep them in a dry and fresh place.
All our cookies are packed individually in compostable plastic bags and in a gift box.

We protect them very well in a nice packaging, but unfortunately, we cannot take responsibility for any damage on the way.

Due to the nature of these products, orders can't be returned or refunded, but if something happens, let us know and we'll find a solution.
Save this product for later